Archived News
---
4/28/04

BringBackKirk.com interviewed by Pau Hana Weekly magazine.
Shortly after the trailer premiered, we were contacted by Pau Hana Weekly, a printed entertainment magazine in Hawaii requesting an interview. As the writer described it, think Entertainment Weekly, with a Hawaiian flair.
Pau Hana Weekly has a distribution of over 70,000 copies a week. Needless to say, this is excellent exposure for the Bring Back Kirk campaign. We were able to reach an audience we have never reached before.
Coming soon... our report of the Trailer screening at the 2004 Brazilian Annual Trek Con!
4/5/04

BringBackKirk.com interviewed by StarTrekFans.net

On April 4th, BringBackKirk.com officials Jason Turner and Marc C were invited to a chatroom Q&A session in regards to our new Trailer with StarTrekFans.net. You can read the transcript HERE!

3/31/04

William Shatner has a concept to bring back Kirk!

In an interview with eTalk Daily, William Shatner was questioned about the possibility of Kirk being brought back. This is what Shatner had to say:

"I've written a scenario, that I could conceivably come back for a show or two. But, I haven't presented it to them yet because I don't know whether they're coming back. So, you're learning for the first time that I have in my hip pocket a way of bringing the character back and making it logical in science fiction terms, which means it's totally illogical!"

This is excellent news! You can read the full transcript, with screenshots, at the TRexx website here:

http://trexx.vrrrm.com/BBK/edShatner040330.php?t=3

3/22/04
BringBackKirk.com Trailer Two ONLINE!
The moment is here! The second official Bring Back Kirk Trailer is now online!

You can get information and links to the trailer HERE!

For high-quality screen captures, the TRexx website has provided many HERE.

2/5/04
BringBackKirk.com Trailer #2 Mirrors Needed!
For a long time, the Bring Back Kirk campaign has been constructing a new trailer to demonstrate the viability of Kirk appearing in current Trek, post Generations, in crossovers with other series'.

The demand for Kirk's return has been there for a long time, and people have been e-mailing us about the trailer for a long time as well. This trailer, which is nearly 100 percent CGI, took a lot of time and effort to complete.

The release time is near. In fact, the trailer will be debuting at a convention soon!

But now comes the hard part--distribution. We want this to be given to any and all Star Trek fans. But we are aware that we may not have the bandwidth capacity to easily distribute it on the web to meet the demand. That's where you can help!
We need volunteers with websites able to host the trailer. The more people that pitch in and host, the more people that will be able to see the thing in a given month. We are expecting thousands of downloads, so it is VITAL that we get volunteers. That way, more people get the trailer faster.

If anyone can help, please contact us. This trailer will generate even more demand for Kirk's return. But to do so, we need the capacity to distribute to match the demand. So if anyone can help, please contact us!
1/18/04
Bring Back Kirk reference in "New Voyages."
"New Voyages" is a fan-made Star Trek film project creating original episodes based upon the characters and situations of the 1960's series. Painstaking effort was done to reproduce the sets and feel of The Original Series. Donations to this project will go to The Space Shuttle Children's Trust Fund, which is a non-profit, tax exempt foundation to provide for the health, education, and support of the children of the astronauts of the Challenger and Columbia disasters.
The long-awaited first episode is finally online! The episode is entitled "Come What May."
In this episode, there is an apparent wink to the BBK Campaign, and our first TRAILER. Watch the episode and see if you can find it!
The Bring Back Kirk campaign wishes to thank the creative team behind "New Voyages" for this little nod, and especially for creating a great piece of work for fans of The Original Series. Well done!
You can see "Come What May" and upcoming news on "New Voyages" at:
10/28/03
BringBackKirk.com Interviews David Gerrold
BringBackKirk.com recently had the pleasure to interview David Gerrold, writer of the Star Trek: The Original Series episode "The Trouble With Tribbles." In this interview, he shares his thoughts on the Star Trek franchise, as well as his opinions on bringing back Kirk!
You can read this interview HERE!

9/16/03

Berman Talks of William Shatner on Enterprise

In an interview in the latest issue of Star Trek Monthly, Rick Berman acknowledged recent rumors of William Shatner having a possible guest appearance on Enterprise:

"It's something that I would love to see happen," he said. "Obviously, it has to be the right role and the right situation. I would never think of just asking Bill to play a role that exists in some episode. It would have to be something very special and something that was created specifically for him. It's something that we are definitely in the process of talking about."
Well, Rick... if you want William Shatner to appear in a role that's created specifically for him, and is very special... I think we all know what role THAT is, don't we? It's Kirk!
Come on, Rick. Do the right thing, and bring Kirk back!
8/17/03
BBK Trailer shown at Starfleet Ball Reunion Con
A special custom-made BBK trailer was recently shown at the Starfleet Ball Reunion Con.
After it was intially screened by the staff for approval, it was so well-liked that it was reserved as a finale to cap off the entire convention!
Reaction was, to quote a con-goer, "Fantastic!"
"Committee member Bea... said that it was something she would be happy to play at any convention she was part of, and the tech team said that they were impressed and asked some technical questions that sadly I was unable to help with.
The attendees who got a chance to see it... also said that they were impressed and asked for more information.
So it got big thumbs up and I hope I will get a chance to see [the official BBK Trailer #2] at Starfleet Ball X in February.
Thanks to all involved! -- David Zabiela"
Thanks to Dave for representing the campaign at the con, promoting our flyers, and advertising our website on a T-Shirt.
Are you visiting a convention soon, or are involved with a con commitee, and would like to help us showcase BBK trailers? If so, please contact us a couple of weeks in advance, and you could help us show the trailers that are taking the Star Trek world by storm!
We give much thanks to the conventioneers for their enthusiasm and support!
7/14/03
BBK Trailer Competition - The Winners!
After much deliberation, the BBK trailer technical team have decided on a winner for our recent competition.
First a thank you to everyone who entered. The judges were very impressed by the imagination and high calibre of your ideas. The reason the results have taken so long is that given the quality of our submissions, deciding the winners was very tough.
If you don't find your name amongst the winners, bear in mind that there weren't any losers in this competition. Much of the decisions went on our technical abilities, and the competitors' choices of setting. Short sequences, location ideas, and ambition were favoured.
Without further ado, congratulations to:
1st place (tie!)– Stan Rothschild and Thomas Hughes
2nd place – Leonard Hobbes
3rd place – El-Branden Brazil
Again, massive thanks to everyone who entered, and congratulations to all our winners.
5/12/03

More great news!

A few weeks ago, Trektoday.com was doing a Q&A session with Enterprise writer Mike Sussman. Sussman has written several episodes for Enterprise, including the recently aired Borg episode, REGENERATION.

During that interview, a Bring Back Kirk question was asked. Here is Sussman's response:

Mike Sussman: Personally, I'd love to see William Shatner on the show. If he expressed an interest, I'm sure we'd figure out a way to bring him back.

4/10/03

"Bring Back Kirk" printed in current TV Guide!

This week's TV Guide printed ten responses to the question of how they can improve Star Trek. Among the reponses was the suggestion to Bring Back Kirk! Here is the letter:

"Star Trek has lost its fans because those in charge alienated the fan base in 1994 when they killed Captain Kirk. [The franchise] needs an event. Bring back Kirk! It's Star Trek--death isn't permanent. Kirk brings in the audience, and the new direction keeps that audience. I say, 'Make it so.' "

Many thanks to the individual who wrote this letter, and to TV Guide for printing this letter!

3/24/03
KIRK APPEARANCE IS ONE OF THE IDEAS BEING DISCUSSED FOR ENTERPRISE
Even more good news for the BBK Campaign!
http://www.trektoday.com/news/220303_03.shtml
When asked for upcoming plans for the third season of Enterprise, Producer Rick Berman replied: "We've discussed everything from a young Sarek to Q to Kirk. There are a lot of things in the mill... All sorts of ideas are in discussion now."
3/2/03
BRING BACK KIRK TRAILER A SMASH HIT AT CONVENTION!
In Sao Paulo, Brazil from February 28th thru March 1st, there was a huge national Star Trek convention.
Gustavo Leao, who is a major contributor to various Star Trek sites, and our official BBK representative in Brazil, attended as a speaker.

While there, Gustavo presented a new Bring Back Kirk trailer that was constructed exclusively for this convention. It features new never-before-seen CGI footage that gave people a taste of what is to come in the second official BringBackKirk.com trailer that is still in the works.

Gustavo Leao provided us with this great report:
"Here is my report about the screening of the BRING BACK KIRK trailer at the Brazilian Convention yesterday and this morning. I have to tell you, people LOVED it. And they loved it so much we had to screen it TWICE yesterday, plus one more time today. People applauded the trailer a lot (see photos of this below) and asked if the trailer was for some movie or episode, and he had to explain that was made by fans for a campaign for bringing back the Captain Kirk character to Star Trek and so forth. ...After seeing the trailer and getting the flyers at the stand, we can tell you that everybody now supports the BBK campaign!"

Here are some pictures from the convention in regards to the trailer:


Here is the announcement of the trailer from a convention organizer: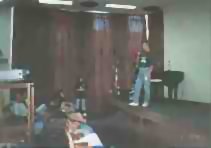 Here is the audience waving their arms in the air, cheering, and applauding the Bring Back Kirk trailer: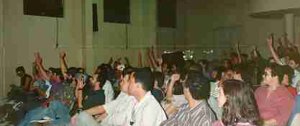 Here are people collecting Bring Back Kirk flyers, after the trailer showing: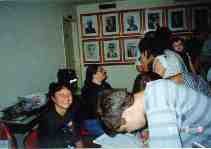 Here are a few screenshots from earlier test footage. Please note that these shots are not in the final trailer release: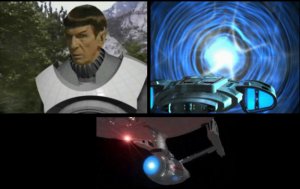 We thank the convention-goers for their enthusiasm and support for this campaign.
We also give much thanks to Gustavo Leao for his contribution in presenting the Trailer!


2/23/03
BRINGBACKKIRK.COM SERVER UPGRADE
The BringBackKirk.com domain and web servers have been in a transitional phase of being updated and upgraded. There may have been some downtime as we went through this transition these past couple of weeks. Some links and filenames have been changed, as well. We request you update your bookmarks, and we apologize for any inconvenience this may cause.
2/12/03
SHATNER IN "FREE ENTERPRISE" SEQUEL
In an interview with Entertainment Zone, producer Mark Altman stated that a sequel to the comedy movie "Free Enterprise" was in the works, and that William Shatner was onboard for the movie.

The original film also starred William Shatner, and was a big hit with fans of Kirk and Star Trek.

Keep an eye out for this film!


12/02/02
STAR TREK V: THE FINAL FRONTIER DVD PETITION ONLINE
If you wish to encourage Paramount to create a special Director's Edition of Star Trek V: The Final Frontier on DVD, go to this link:
Please note that this petition is in no way affiliated with BringBackKirk.com.
9/22/02

BERMAN OPEN TO SHATNER ON ENTERPRISE!

The magazine Star Trek Monthly in the UK, had an interview with Star Trek Executive Producer Rick Berman. What Berman said was fantastic news for Kirk fans:
Rick Berman was asked: Have we have seen the last of Captain Kirk (William Shatner) in Star Trek? Could he turn up on Enterprise or perhaps in a TV movie of some kind?
Berman responded: "I have absolutely no idea about TV movies, but there are no absolutes in Star Trek. If Bill is willing there's always a possibility. After all, Enterprise takes place in the era of Kirk's great-grandfather probably, and there'd be nothing more fun than trying to work something like that out."
So, it seems that Berman is willing to have Kirk's great-grandfather appear. It also appears that he's open to Kirk's return, as well.
You can see this article for yourself, with its proper context, HERE.
Well, the news these past few months has been really great, hasn't it? It appears Berman and company are more open to such things.

We shall see if they follow through!


8/7/02
BRANNON BRAGA ADMITS KILLING KIRK WAS A MISTAKE!
On Day Two at Creation Entertainment's Las Vegas "Real Deal" Convention, Executive Producer Brannon Braga, who also co-wrote Star Trek: Generations, finally admitted that killing off Kirk was a mistake.

Brannon Braga was asked if he could go back in time, what advice would Executive Producer Brannon Braga give to Intern Brannon Braga? Braga's answer to that was short and sweet: "Don't kill Kirk!"

This shows that even Brannon Braga himself is aware that killing off Kirk was a mistake.

What Mr. Braga needs to know, however, is that this mistake can be corrected. Mr. Braga may not be able to go back in time and change history to avoid killing off Kirk in the first place, but he CAN bring back Kirk one last time, and not kill him off again. That would correct this terrible mistake, Mr. Braga! The question is: Since you are brave enough to admit killing Kirk was a mistake, are you also brave enough to do the right thing? Are you brave enough to take the next logical step, and correct that mistake?
6/26/02

BERMAN OPEN TO ORIGINAL CAST ON ENTERPRISE
In an interview in the upcoming issue of Star Trek: Communicator magazine, Rick Berman had this to say:
"There are always people who want to revisit characters from THE ORIGINAL SERIES... There have been at least four or five pitches that we have received in the last six months that have dealt with characters from TOS that could have somehow, either through time travel or through being much younger, touched the 22nd century. As of yet, we haven't found one that worked but we aren't closed to it."
---